My YunoHost server
Hardware: Intel NUC
YunoHost version: 11.2.4
I have access to my server : Through everything
Are you in a special context or did you perform some particular tweaking on your YunoHost instance ? : no
Description of my issue
I can't update Netdata from the administration interface. This is the error message I get :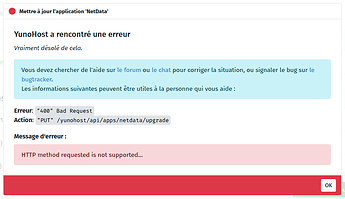 I got this error a while back, but I didn't bother to correct it until now
Thanks in advance !

---
Mon serveur YunoHost
Matériel: Intel NUC
Version de YunoHost: 11.2.4
J'ai accès à mon serveur : Par tout les moyens
Êtes-vous dans un contexte particulier ou avez-vous effectué des modificiations particulières sur votre instance ? : non
Description du problème
Je ne peux pas mettre à jour Netdata depuis l'interface d'administration. Voici le message d'erreur qui apparait :

C'est une erreur récurrente depuis quelques temps, qui m'empêche d'utiliser bouton pour mettre à jour toutes les applications d'un coup, je pense qu'il est temps de s'en occuper
Merci par avance !