Hello,
A community package is now available for Mastodon.
Official description:
Mastodon is a free, open-source social network. A decentralized alternative to commercial platforms, it avoids the risks of a single company monopolizing your communication. Pick a server that you trust — whichever you choose, you can interact with everyone else. Anyone can run their own Mastodon instance and participate in the social network seamlessly.
Links
Package URL for Mastodon: GitHub - YunoHost-Apps/mastodon_ynh: Free, open-source social network for YunoHost
Report a bug for Mastodon: Issues · YunoHost-Apps/mastodon_ynh · GitHub
Mastodon website: GitHub - mastodon/mastodon: Your self-hosted, globally interconnected microblogging community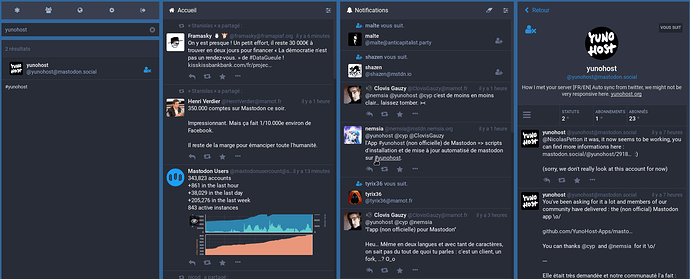 Please feel free to test and report any problem!