/ Message template (english)
My YunoHost server
Hardware: OVH Kimsuffi VPS bought online
YunoHost version:
The server architecture is bare-metal amd64
The server uses Linux kernel 4.19-ovh-xxxx-std-ipv6-64
The server uses Debian 10.7
The server uses YunoHost 4.0.8.3 (stable))
I have access to my server : Through SSH
Are you in a special context or did you perform some particular tweaking on your YunoHost instance ? : no
Description of my issue
Hello,
After rebooting my Kimsuffi server following updates, I had the sad surprise of no longer having access to it.
I then received an email indicating that it was no longer responding to the ping.
A technician went to check and told me that
The server remains blocked during the boot phase on the message :
(grub install)

Your server has restarted in 'Rescue' mode.
Here are the steps I followed to get it back on track:
In rescue mode, the server disk is not mounted, it's just a rescue boot.
The principle is to mount the partitions of my disk, to change the root folder with chroot and to repair Grub.
lsblk
sudo fdisk -l 

To locate the partitions and their contents.
In my case, I had :
sda1 as boot
sda2 as partition~900Mo
sda3 as swap.
I don't have an EFI partition.
I mount the partitions and some folders to recreate the environment of my server.
mount /dev/sda2 /mnt
mount /dev/sda1 /mnt/boot/
mount --bind /dev /mnt/dev
mount --bind /dev/pts /mnt/dev/pts
mount --bind /sys /mnt/sys
mount -t proc /proc /mnt/proc

Root change :
chroot /mnt /bin/bash

mount - a

To mount all the partitions of /etc/fstab (I'm not sure if this command is useful)
and then we repair Grub :
apt-get install grub-pc
grub-install /dev/sda
update-grub

To leave the chmod :
exit

Finally, change the Netboot in the KimSuffi interface, choosing "Hard Disk".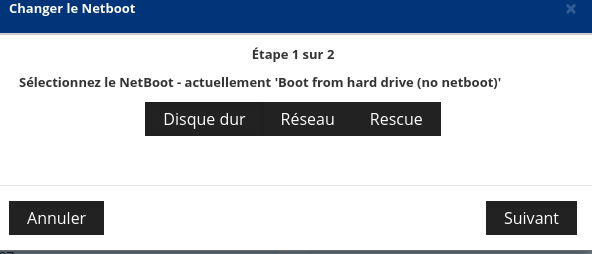 and reboot the server :
reboot

---
Modèle de message (français)
Mon serveur YunoHost
Matériel: VPS Kimsuffi acheté en ligne
Version de YunoHost:
L'architecture du serveur est bare-metal amd64
Le serveur utilise le noyau Linux 4.19-ovh-xxxx-std-ipv6-64
Le serveur utilise Debian 10.7
Le serveur utilise YunoHost 4.0.8.3 (stable)
J'ai accès à mon serveur : En SSH
Êtes-vous dans un contexte particulier ou avez-vous effectué des modificiations particulières sur votre instance ? : non
Description du problème
Bonjour,
Après avoir rebooté mon serveur Kimsuffi suite à des mises à jour, j'ai eu la triste surprise de ne plus y avoir accès.
J'ai alors reçu un mail indiquant qu'il ne répondait plus au ping.
Un technicien est allé voir et m'a indiqué que
Le serveur reste bloqué durant la phase de boot sur le message :
(grub install)

Votre serveur a redémarré en mode 'Rescue'
Voici les étapes que j'ai suivies pour le remettre en route :
En mode rescue, le disque du serveur n'est pas monté, c'est juste un boot de secours.
Le principe est de monter les partitions de mon disque, de changer de dossier racine avec chroot et de réparer Grub
lsblk
sudo fdisk -l 

Pour repérer les partitions et leur contenu.
Dans mon cas, j'avais :
sda1 en boot
sda2 en partition de ~900Mo
sda3 en swap.
Je n'ai pas de partition EFI.
Je montes les partitions et certains dossiers pour recréer l'environnement de mon serveur
mount /dev/sda2 /mnt
mount /dev/sda1 /mnt/boot/
mount --bind /dev /mnt/dev
mount --bind /dev/pts /mnt/dev/pts
mount --bind /sys /mnt/sys
mount -t proc /proc /mnt/proc

Changement de racine :
chroot /mnt /bin/bash
mount - a

Pour monter toutes les partitions du /etc/fstab (Je ne suis pas sûr de l'interêt de cette commande)
et ensuite on répare Grub :
apt-get install grub-pc
grub-install /dev/sda
update-grub

Pour quitter le chmod :
exit

Pour finir, changement du Netboot dans l'interface KimSuffi, en choisissant "Disque Dur"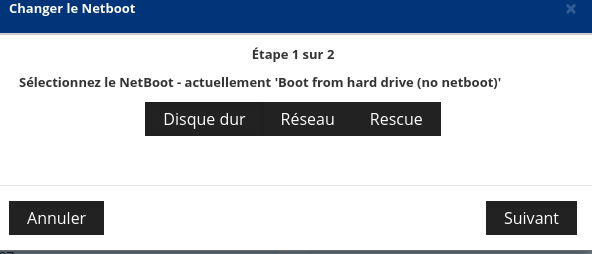 et reboot du serveur :
reboot