Moderation note

lithrel was the previous maintainer of this package, TitusPiJean seem to be the new one, so I (ljf) change the author of this message to let TitusPiJean do some change in the Grav presentation
Grav for YunoHost
This package allow you to install Grav quickly and simply on a YunoHost server. If you don't have YunoHost, please see here to know how to install and enjoy it.
What is Grav?
Grav is a modern open source flat-file CMS. It means you can publish your website directly from text files. This package ships an admin interface, that enables control and page editing through your browser.
Shipped version: 1.5.2, released on 2018-10-01
Screenshot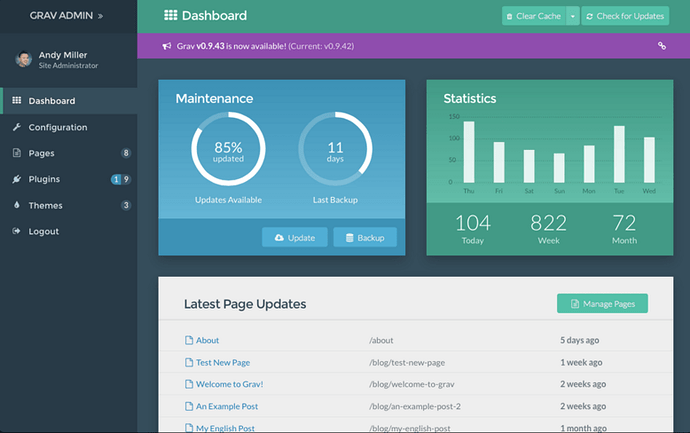 YunoHost specific features and limitations
SSO login is not supported yet.
You have to manually create your admin user upon first Grav access.
Supported architectures
All architectures supporting nginx and php.
Links, documentation, and bug reporting
Grav
YunoHost package
---
Developers information

Only if you know what you are doing AND want to switch to an unstable branch for testing or coding. Instead of merging directly into master, please do your pull request to the testing branch
To install the testing branch:
sudo yunohost app install https://github.com/YunoHost-Apps/grav_ynh/tree/testing --debug

To upgrade to the testing branch (replace grav by the actual instance ID if more instances are installed):
sudo yunohost app upgrade grav -u https://github.com/YunoHost-Apps/grav_ynh/tree/testing --debug 

Changelog
Master branch
Before 2018-09-03: see Github's commit history
2018-09-12: Package rewrite, adding Jibec and tituspijean as maintainers
2018-09-16: Fix upgrade resetting the website
2018-09-20: Upgrade to Grav v1.5.2
2018-10-27: Upgrade to Grav v1.5.3
Testing branch current state
Maintainers
lithrel (previous)
cyp (previous)
jibec (current)
tituspijean (current)