Hardware: AMD64
YunoHost version: 11.x.x (but cannot check right now)
I have access to my server : Not via network only physical with a keyboard and screen attached.
Are you in a special context or did you perform some particular tweaking on your YunoHost instance ? : yes
If yes, please explain: it's behind a VPN exactly like: Homemade WireGuard VPN on a VPS server by @rungeard
Description:
Again I have the issue that the network is not able to raise, it happened after I rebooted the system.
Here are some pictures of the errors (Sorry but, I cannot grab the logs without a network connection);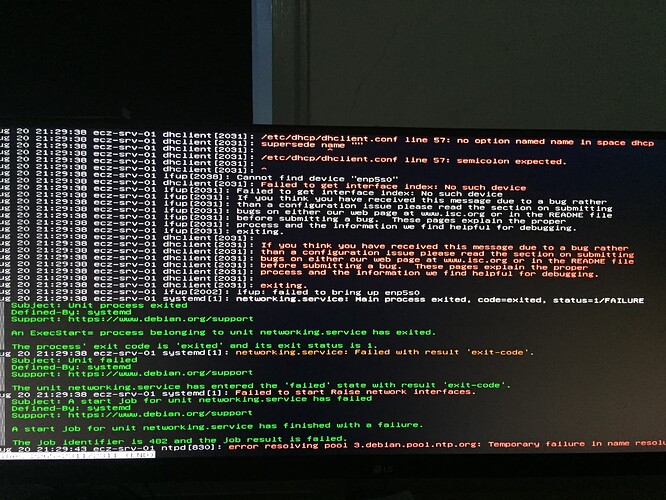 If any log is missing please tell me, and I'll add it, I might have made a mix-up with the pictures.
I tried to use the commands from the earlier topic since it is similar to Cannot raise network after failed drive?!. But they did not fix the issue this time.
Thanks for the help!
Edit; meanwhile I'm thinking of uninstall the VPN configuration and revert it all back to default, since I don't really have a use case for a VPN anymore. It is also maybe the cause of the issues?
Re-installing YH and restore a backup is not possible, since I get all sorts of garbage issue on my screen if I boot from an installer medium… I see the colors of the installer, but text is garbage.
Or can i maybe just first install Debian and then use the VPS installer method curl https://install.yunohost.org | bash?