Hi,
Have you tried deleting and reinstalling Vault?
And it did nothing at all?
Can you tell me if it is:
mydomain.ndd/vaultwarden or vaultwarden.mydomain.ndd
Since you still can't access it, why not completely uninstall Vaultwarden?
Create your Vaultwarden subdomain ex:
vault.domain.tld, vaultwarden.maindomain.tld, bitwarden.maindomain.tld, or warden.domain.tld… (well, give it whatever name you want)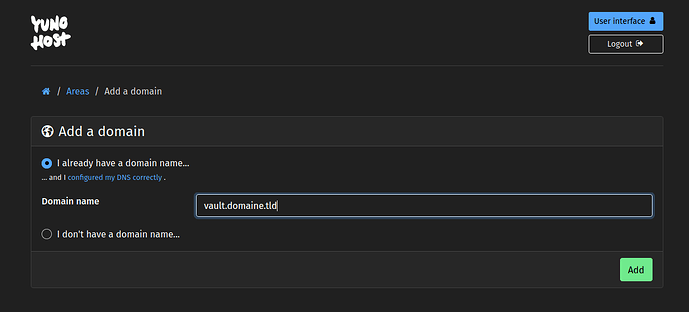 Hi.
tried to install it to my subdomain and still the same error.
log for my subdomain vault installation.
Do you use a dedicated server, a VPS, or on a Raspberry PI?
I am using an old iMac with linux on it. Yunohost is installed on a VMBox on this machine.
Ah OK,
I'm sorry, but there I don't have enough knowledge with a Linux on MAC and VMBox.
I'm not able to help you, I'm sincerely sorry… I hope someone else, using Linux on MAC can help you better.
I should have asked you this question before to avoid wasting your time.
Sincerely I'm sorry.
Hey!
No time wasting here

Thanks for your input!
Cheers
same.
I am using a VPS and every domain returns a 404.
This topic was automatically closed 15 days after the last reply. New replies are no longer allowed.