My YunoHost server
Hardware: VPS bought online / Old laptop or computer / Raspberry Pi (specify version, 0 to 4) at home / Internet Cube with VPN / Other ARM board / …
YunoHost version: 11.0.9.9
I have access to my server : Through SSH | through the webadmin | direct access via keyboard / screen | …
Are you in a special context or did you perform some particular tweaking on your YunoHost instance ? : no / yes
If yes, please explain:
Description of my issue
So I tried to update my Yunohost system for the first time today, but to my confusion and frustration, it errors out and gives me this message: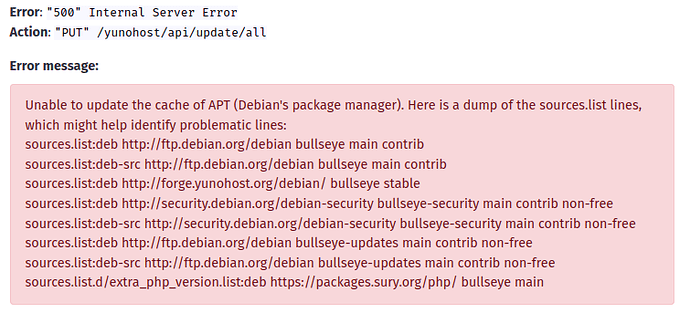 I have no idea why it is giving me this message and I am unsure how to fix it. All the "problematic" lines seem to be all my APT sources, so that narrows down nothing for me. I'm really in a rut right now and would like some help or advice on what is going on.