My YunoHost server
Hardware: Hetzner VPS
YunoHost version: 11.1.11.2 (stable)
I have access to my server : SSH and Webadmin
Are you in a special context or did you perform some particular tweaking on your YunoHost instance ? : no
If yes, please explain:
If your request is related to an app, specify its name and version: Gitea 1.17.4~ynh1 and/or Forgejo 1.18.5-0~ynh2
Description of my issue
Hello! So I have been trying to get Gitea/Forgejo (issue reproduces basically identically between either, the main goal currently is to get Forgejo working however) working for a few months now, with the same issue happening every time.
What happens is:
I install Gitea/Forgejo
I go to the app and check my profile
Instead of my email being the correct nick@tar.black, it shows up as something like [random-hash]@localhost
For example right now I have both Forgejo and Gitea installed to see if both apps are still having the issues, and the emails are 05d193c6-32ed-429a-ab69-9609977c179a@localhost and dd5857ab-dc52-4031-84a0-991e9db04c08@localhost respectively.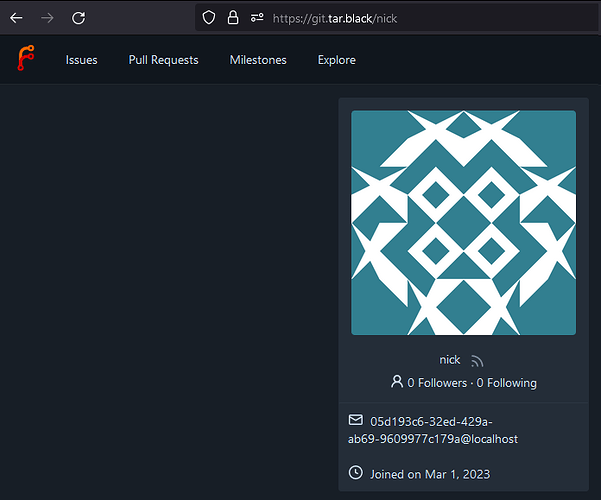 I would love some help with this as I honestly have no clue on how to fix it and am not very keen on using GitLab instead of either of these