My YunoHost server
Hardware: Raspberry Pi at home on SD card 60 Gb
YunoHost version: 4.1.6 (stable).
I have access to my server : Through SSH | through the webadmin | direct access via keyboard / screen
Are you in a special context or did you perform some particular tweaking on your YunoHost instance ? : no
Description of my issue
Hello there!
I have a small problem with seafile.
For nearly 2 years, I had no problems. But since yesterday, seafile crashed (when opening the app, it says "Page unavailable"). I investigated a bit and saw that it crashes because the seafile-data/storage is near 60 Gb, so when it tries to sync, it exceeds the size of my SD card.
But when I look at the files I actually sync and are stored with seafile, I have no more than 5 Gb of data (see Figure below)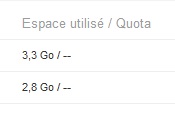 Figure: Total size of all the files synced to seafile from 2 users
In the monitor app, we can clearly see that the size left on my SD card is rapidly decreasing over the last few months.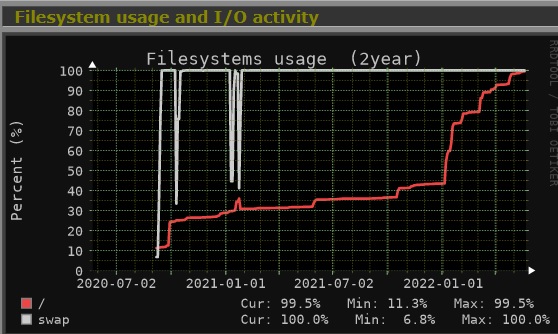 Figure: Filesysteme usage for swap (in white) and yunohost (in red)
By looking at the actual files in my rpi, I managed to locate the folder/files responsible for this memory leak: around 20 files located in /home/yunohost.app/seafile-data/storage/blocks with hashed names. The size most of the files is shown below.


Figure: /home/yunohost.app/seafile-data/storage/blocks size

Figure: File size for the files in /home/yunohost.app/seafile-data/storage/blocks
Do you know how to fix this problem?
I think by deleting everything and re-installing the app, it should fix it. But I guess this memory leak will still be there and the problem will eventually come back.