/ (english)
Hi,
I want to know if what I imagine is realistic. I want to create a family self host server (about 10 peoples).
I want to host this applications :
Calendar, Contact => Baikal
Sync, organize they own picture privately and share them if they want => Librephotos (If you know better tell me if it's note NextCloud)
RSS READER => Tiny Tiny RSS
e-book READER => Calibre-web
For some of them :
Password manager => Keeweb
A little Cloud => Seafile
I don't want a mail server or WEBMAIL. I already have one in an other server.
I may add extra applications like Grammalecte server or Scrumblr in a second time
Here is how i imagine all the infrastructure :
1 dedicate sever (principal),
1 VPS sever (secondary, maybe undersized, but it will work only if the primary is off).
The medias (photos, e-book, Cloud) will be on a remote network storage. So i don't have to think aboit space disk and backup.
For the DNS and the fail-over IP it's already done in an other server.
i put a schema at the end of the topic to be more clear.
I think YUNOHOST aswered all my needs for the user part and the applications part. However, my architecture is atypical, and I would like your opinion on the feasibility.
I have few questions (I found some answered on my own but I leave question/answer here in case of) :
Do you think the project is achievable ?

Has anyone done a similar setup and have any feedback?

I don't want to use YUNOHOST mail server. Is it possible? (I found answer here, Yunost Forum And Here, Yunohost Documentation).

I found the fallback application. In it there is two configuration files. One where i can set the application i want to backup. The second one is more the backup configuration.
Do you know if i can choose what to save? In example, I would like to save, configuration or database from application but not the data (media). The data will be already save in the remote storage

The remote storage will be mount on the server. Is there a better place to do it ? /home/media, /mnt.media, /mnt.remote,…
This storage have to deal whith all big files or data like photo, e-book,… I don't want the configuration file or database to be there. I see there is "/home/yunohost.multimedia/ in YUNOHOST to deal with media, is that right? If i mount my remot in this does it do what i want?
Thanks a lot dor the answered and advice
BBO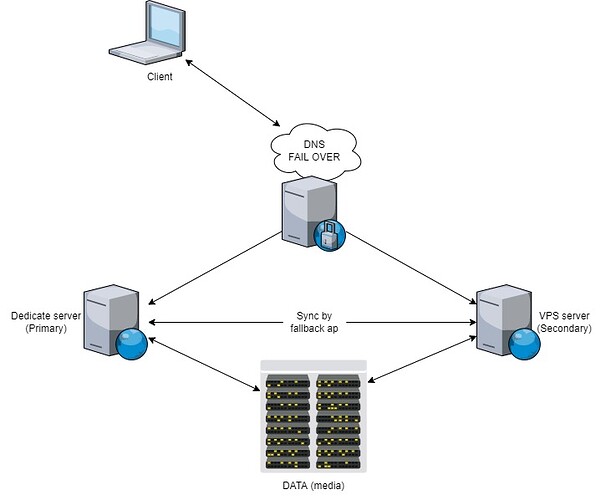 (français)
Bonjour,
Je vous sollicite pour savoir si mon projet est faisable. Le but est de monter un serveur pour ma famille (gestion d'environ une dizaine de personnes).
je veux leur proposer ces services :
gestion calendrier, contact => Baikal
gestion des photos de chacun de manière privée avec partage s'il le souhaite => Librephotos (si vous avez mieux autre que NextCloud je suis preneur)
Lecteur RSS => Tiny Tiny RSS
Lecteur d'e-book => Calibre-web
et pour certains :
Gestionnaire de mots de passe => Keeweb
un petit Cloud => Seafile
Je ne veux pas de serveur de mail ni de WEBMAIL. c'est déjà géré ailleurs (pour un groupe restreins).
Je pourrais peu-t-être ajouter quelques applications supplémentaires genre Grammalecte server ou Scrumblr, mais ce sera dans un second temps
Pour les convaincre de partir de Google ou Apple pour ces tâches, voilà le montage prévue :
1 serveur dédier (principal),
1 seveur VPS (secondaire, certainement sous-dimentionné, mais qui sera là en cas de problème sur le principal le temps d'une réinstallation).
Les médias (photos, e-book, Cloud) seront stocker sur un espace de stockage réseaux. Ainsi la taille et sa sauvegarde seront décorrélées du reste.
La partie DNS et failover est géré ailleurs .
(petit schéma au dessus du post)
je pense que YUNOHOST répond à mes besoins pour la gestion des utilisateurs et des applications dont j'ai besoin. Cependant, mon architecture étant atypique je voudrais votre avis sur la faisabilité.
Voici mes questions (j'ai déjà trouvé à force quelques réponses, mais je laisse les questions et réponses pour d'autre au cas ou) :
Pensez-vous que mon projet soit faisable, viable, ou complètement surréaliste ?
Quelqu'un a-t-il déjà fait un montage similaire et aurait un retour d'expérience?
Est-il possible de ne pas utiliser le serveur de mail de YUNOHOST, mais de faire en sorte que le serveur envoie les mail d'alerte (ou via un autre moyen comme un WS de notification)? (réponse trouvéeici, Yunost Forum et ici, Yunohost Documentation).
Il existe une application pour faire la continuité de service. J'ai compris qu'il y avait deux fichiers pour la configuration. L'un permet de définir les applications à sauvegarder et l'autre plus sur la sauvegarde en elle-même. Peut on choisir ce que l'on veut sauvegarder ? Par exemple, pour mon application de gestion de photos ou d'e-book, je n'ai besoin que de sauver les BDD et la configuration des applications. Les photos et/ou e-book le seront déjà via le stockage distant.
Mon stockage réseaux sera monté sur ma machine. Y a-t-il un emplacement mieux qu'un autre ? /home/Media, /mnt/remote,…? Le but de ce stockage et de gérer tous les gros volumes comme les photos ou e-book. Elles n'auront donc pas besoin de faire partie des sauvegardes. Cependant, j'aimerais éviter que les fichiers de conf et/ou les fichiers de bases de données soient dessus. J'ai l'impression que beaucoup de médias se trouve maintenant dans le répertoire /home/yunohost.multimedia/. Ai-je bon ? Dans ce cas suffit-il que mon remote soit monté justement là ?
Merci beaucoup par avance pour vos réponse conseil.
BBO