Hi there,
I am facing an issue that is not directly related on Yunohost, sorry for that.
My YunoHost server
Hardware: Raspberry Pi at home
YunoHost version: 4.0.8.2 (stable)
I have access to my server : Through SSH + through the webadmin
Are you in a special context or did you perform some particular tweaking on your YunoHost instance ? : no
Description of my issue
I made a diagnostic of my server and the following ports are not accessible from outside:
25
80
443
587
993
5222
5269
I tried to follow the instructions to configure my modem (UPC) but unsuccessfully.
On the port forwarding page, I have the following: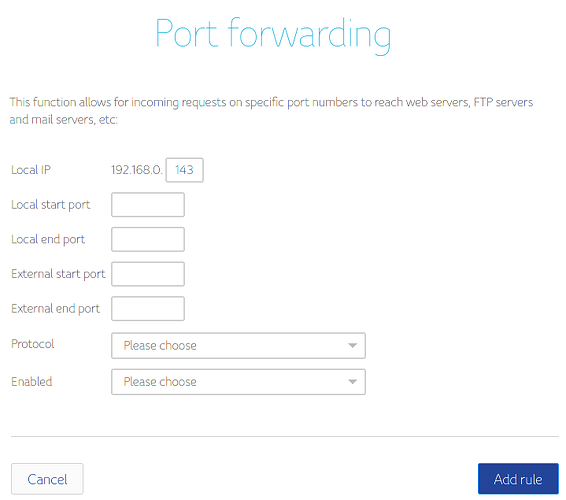 Local start/end port and External start/end port
Can you advise what to enter in those 4 boxes please?
Protocol
TCP, UDP or Both?
Enabled
On or Off?
Thank you
Thibaut