Hello from Germany!
Thanks for all your effort to bring the not so tech-savvy people the free solution for self hosting

My YunoHost server
Hardware: Raspberry Pi 4 at home
YunoHost version: 4.0.8.3 (stable)
I have access to my server : Through SSH | through the webadmin
Are you in a special context or did you perform some particular tweaking on your YunoHost instance ? : no
Description of my issue
I ran into maybe a typical problem in Germany with Vodafone/Unitymedia. My Yunohost-Server isn't reachable from outside the home network. In their basic contracts they only support individual IPv6 addresses. They call it "dual stack lite" where maybe 40 people share one IPv4. With their router "Connectbox" you can filter ports with IPv6, which I did with TCP 80/443: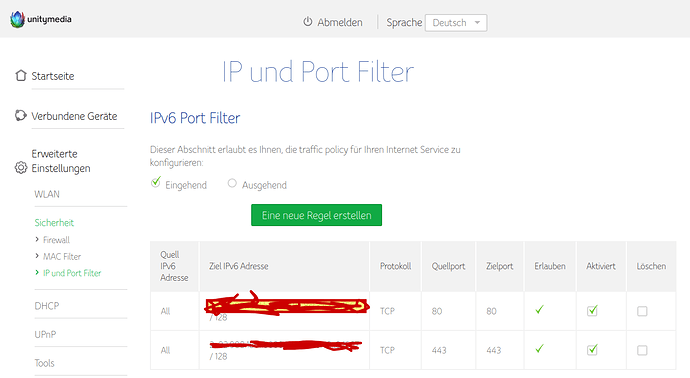 But still no connection from the outside. Inside my home network everything is fine!
What am I missing? :-/