My YunoHost server
Hardware: Raspberry Pi 4 with 8GB
YunoHost version: 11.0.9.13
I have access to my server : Both through the webadmin page and through SSH
Are you in a special context or did you perform some particular tweaking on your YunoHost instance ? : no
Description of my issue
Hi all,
for the last few days I've observed a strange phenomenon: Whenever my Yunohost is online (connected to my router by cable), my internet connection speed drops from 20 Mbps to 5 Mbps or less, to the point where I cannot use a browser on my desktop or open a twitter feed because loading the images takes forever.
If I turn off the Yunohost, or if I cut off the Yunohost by disabling port forwarding (80, 443) on the router, the speed returns to 20 Mbps.
I'm not doing anything unusual or bandwidth-heavy on the Yunohost. I have Nextcloud and Jellyfin installed, but all Nextcloud files are fully synced, and I'm not actively using Jellyfin. Besides those, I only have Roundcube installed for internal use.
This internet speed drop never happened before. I had been using this setup for several months (under v4).
The webadmin > Diagnosis reveals one strange issue in DNS records: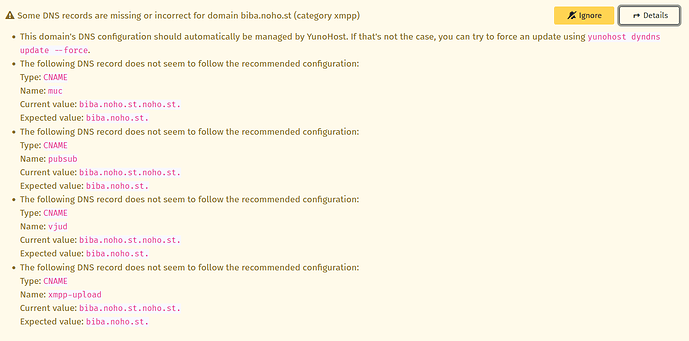 Could this error and the drop in speed be related?
I tried fixing this issue as the Diagnosis suggests by running sudo yunohost dyndns update --force on the Yunohost, and the command completese successfully, but the issue persists.
Thanks for your help!
Avenor