My YunoHost server:
Hardware: Raspberry Pi4 at home
YunoHost version: 4.1.7.2
I have access to my server : through the web admin
Are you in a special context or did you perform some particular tweaking on your YunoHost instance ? : no
Hello, new yunohost frens! I am trying to get my yunohost configured properly for the first time on my Raspberry Pi4 here at home. I am on the diagnosis screen in the web admin interface. I am currently unable to connect through HTTP from outside my local network, and all of my ports show up as unreachable. I am on Google Fiber and can reach my network admin settings to create forwarding rules, but they don't seem to take effect. I also have UPnP enabled on my network, and I ran command
$ sudo yunohost firewall reload as suggested here:
https://yunohost.org/en/isp_box_config
I have poured over documentation for yunohost as well as Google Fiber and I'm totally stumped. I would greatly appreciate some pointers if possible!
Here is a screengrab of the logs I have so far: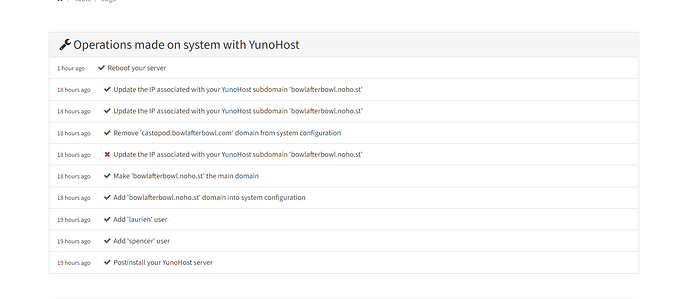 If any of these logs are needed in further detail I can provide them. Thank you in advance for your assistance on this matter!