My YunoHost server
Hardware: Raspberry Pi 4 with 8GB
YunoHost version: 11.0.9.12 (just updated - may be part of the problem?)
I have access to my server : Both through the webadmin page and through SSH
Are you in a special context or did you perform some particular tweaking on your YunoHost instance ? : no
Description of my issue
Hello all,
as of today I cannot access the user login and the installed apps any more. Till yesterday this had worked fine. Then I ran new system updates to v11.0.9.12 and the newest Nextcloud v24 update. I believe that these updates must have messed up something.
I do have access via webadmin and ssh login. Webadmin > Diagnosis shows these errors:
DNS records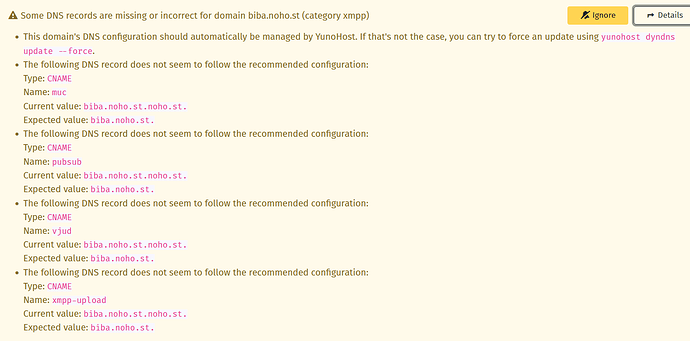 Strange how some values are set to
biba.noho.st.noho.st
which is obviously wrong. I don't know what caused this mess-up
Ports exposure
Two ports are not available (this all worked fine till yesterday)

and
I tried running
$ sudo yunohost dyndns update --force
but it resulted in an error with the following log:
https://paste.yunohost.org/raw/viteralucu
I tried to set up individual port forwarding in my router, but that didn't make the ports available again.
I'm a beginner with YunoHost and don't know what these errors mean or how to fix them.
I'd appreciate your help – Thanks!
Avenor