Hello there everybody

The problem is simple but yet i need your support


I install AdGuard by yunohost installation menu then set up few DNS block and TLS domain names / services
but i want to set-up encryption for DNS and the problem is when i check it like yes i want used it then i got a error massage the port 443 its not open for HTTPS but my website (yunohost) its over SSL (Lets Encrypt) each domain work perfectly HTTPS works as should, port is open in firewall in server and also my router.
There is another problem and thats set-up a path for lets encrypt cert.pem and key.pem
which i found be located in /etc/yunohost/certs/yourdomainname.com/cert.pem or key.pem
but this location is not valid for set-up inside adguard there is also photo.
How should i set-up it ? what i am doing wrong ?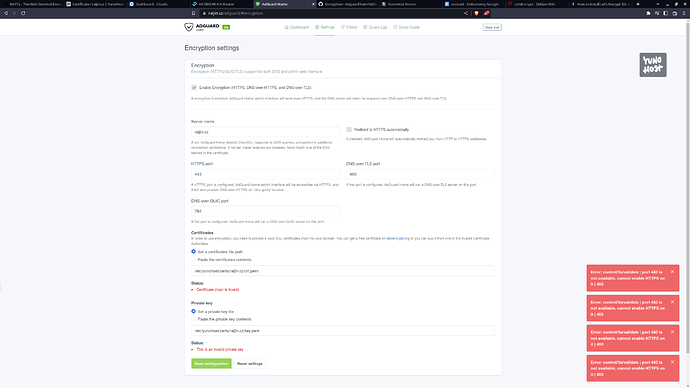 or there is documentation for it ? i didnt found it. Soo please help me !!!