My YunoHost server
Hardware: Odroid HC2
YunoHost version: 4.2.5.2
I have access to my server : Through SSH | through the webadmin
Are you in a special context or did you perform some particular tweaking on your YunoHost instance ? : Static IP in the Interfaces file + extraargs=net.ifnames=0 in /boot/armbianEnv.txt
Description of my issue
I've installed Jellyfin a few days back, and when I'm trying to go to the app adress, I've got a 502 Bad Gateway error.
I've red the documentation of Jellyfin and tried to get the integrated web interface by typing domain.ynh.fr:8096 but it doesn't work either, the page failed to load.
---
Mon serveur YunoHost
Matériel: Odroid HC2
Version de YunoHost: 4.2.5.2
J'ai accès à mon serveur : En SSH | Par la webadmin
Êtes-vous dans un contexte particulier ou avez-vous effectué des modificiations particulières sur votre instance ? : IP Statique attribuée dans le fichier interfaces, + extraargs=net.ifnames=0 dans /boot/armbianEnv.txt
Description du problème
J'ai installé Jellyfin il y deux jours et le lien de l'application m'envoie vers une erreur 502 Bad Gateway. J'ai ensuite essayé de joindre l'interface web via l'adresse domaine.ynh.fr:8096 et la page charge jusqu'à une erreur de chargement.
Error from the app adress in Yunohost Administration panel :

Error from domain.ynh.fr:8096 :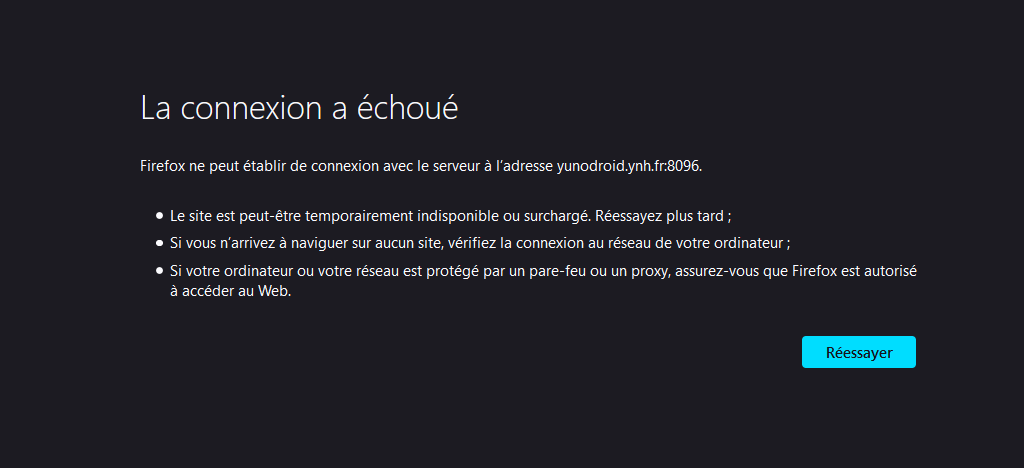 Thanks !