Version de Yunohost : 4.2.5.3


Il m'est impossible d'ignorer les problèmes relevés par l'outil de diagnostique.
(En effet, ce dernier se trompe car j'ai installé Yunohost sur un sous domaine donc je redirige les serveurs XMPP de tous mes sous domaines vers le sous domaine racine. L'outil de diagnostique voudrait qu'ils soient redirigés vers le domaine principal.)
Quoi qu'il en soit, chaque fois que je clique sur ignore, j'obtiens ce message d'erreur (voir image).
Auriez-vous une idée ?


It is impossible for me to ignore the problems found by the diagnostic tool.
(Indeed, the tool is wrong because I have installed Yunohost on a subdomain so I redirect the XMPP servers of all my subdomains to the root subdomain. The diagnostic tool would like them to be redirected to the main domain).
Anyway, every time I click on ignore, I get this error message (see picture).
Do you have an idea?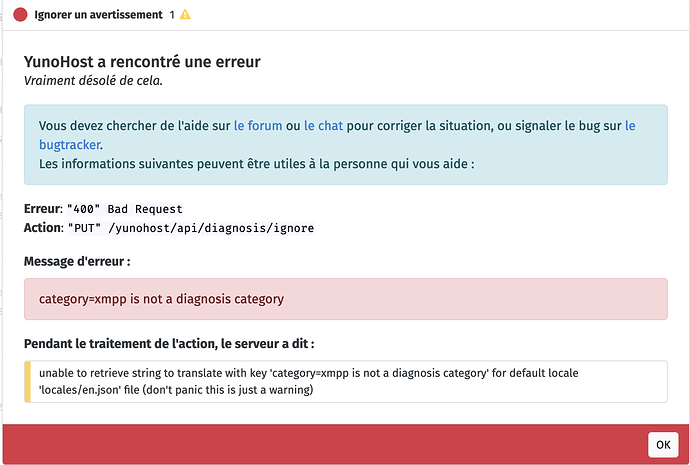 Merci ! / Thanks !